eForms Standard & Enterprise Only
If you use either eForms Standard or Enterprise you will be prompted for a user name and password upon starting the software. You can enter any name you wish to use for a username, not necessarily your computer or network user name. A unique user ID should be assigned to each user as simultaneous logins by the same user name could result in data access problems.
Users can use the language button at the top right of the logon screen to toggle between the English or French user interface. (The language can also be changed using the Language item of the Setup menu.)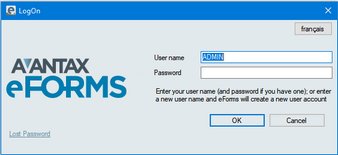 Each time a new user name is entered, you will be prompted to create an account and password for the user. You are not required to create a password but it is recommended that you do so in environments where greater data privacy is required. You can change the password at any time by selecting the Change Your Password option from the Setup menu. Please keep track of your password as it cannot be recovered if the password recovery options have not been configured.
Passwords are optional and are not carried over from previous years; a new password must be created every year. Passwords are stored on the local workstation or network location where the program was installed. If you lose your password we are not able to recover it for you, please use eForms' built in recovery options to enable password recovery. If the password recovery options have been set up then you need only click "Lost Password" on the logon screen to recover your password.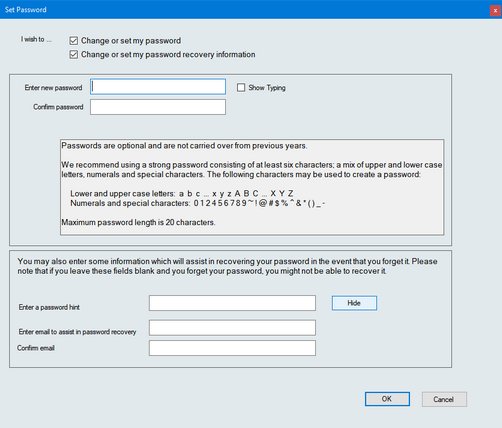 •

Show typing

- Reveals the password
•

Do not set password

- Creates user account without a password
•

Enter a password hint

- Create a hint to help you remember your password
•

Enter email to assist in password recovery

- Enter the email address to use when attempting to recover your password, confirm the email address on the next line
Each user name is associated with a corresponding user profile which contains the settings (current database, screen layout, print destination & etc.) associated with that user. Each user can establish their own preferences and default values by selecting User Settings from the Setup menu.
Upon installation, eForms Standard and Enterprise will create the ADMIN user account. The ADMIN user account has access to high level maintenance and administrative functions, we recommend you configure a password for this account to prevent unauthorized use of this account. As a lost password sometimes cannot be recovered please store the ADMIN password in a secure location.