MENU: SETUP > USER ADMINISTRATION
eForms Standard & Enterprise Only
This feature is only available to the administrator logged in with the user name "ADMIN." The administrator is able to change the password for any user, as well as deleting a user account altogether.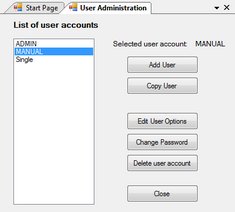 Add User
Create an entry in the user database for a new user account. The new user can log on to eForms; their personal settings will be saved to the user database when they exit eForms. The ADMIN user account is automatically created upon installation of eForms Standard or Enterprise; it can neither be created nor deleted.
Copy User
Copies all personal settings of an existing user to a new user account. This is handy for network administrators to setup multiple user accounts with similar settings.
Edit User Options
Turns on user settings mode for the selected user account. In this mode the user's personal settings can be configured at will. To commit them to the user database you can either exit eForms or return to the User Administration dialogue and click on "Done."
Change Password
Changes the password for the selected user account.
Delete User Account
Deletes the selected user account.