The registration screen will be displayed each time you start eForms until an authorization code is entered. Without an authorization code, eForms will operate as a demo; all data entered into the demo will be retained upon authorization. An authorization code must be entered before full functionality is activated.
Enter the authorization code issued to you by ELM Computer Systems to register your copy of the program. You can receive your authorization code by one of the following methods:
| | |
| --- | --- |
| 1. | The authorization code will be displayed in your Internet browser and emailed to you after successful completion of your order at the AvanTax eForms Online Store |
| | |
| --- | --- |
| 2. | The authorization code will be emailed for orders emailed, faxed or telephoned to us that do not require shipping |
| | |
| --- | --- |
| 3. | The authorization code will be included in the product packaging if shipment has been requested |
Once you have entered your authorization code you can click on the OK button on the registration screen to begin using eForms; you will see the name of the license holder displayed on the Start Page and on various reports.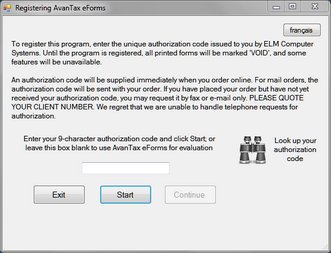 eForms can be used as a demo by clicking on the Start button without entering an authorization code. You will not be able to produce a return, import data or perform other advanced options until an authorization code has been entered, but all other aspect of eForms will function normally.
Authorization codes issued for the current and all previous program releases can be found by clicking the "Look up your authorization code" button on this screen or by viewing their Client Profile at our online store.
eForms is copyright (c) 1987-2023 by ELM Computer Systems Inc. Please refer to the License Agreement for full details of the agreement between ELM Computer Systems Inc. users of the eForms software.