QuickHelps Video - Starting eForms for the First Time
An eForms icon, like the one below, will be automatically created on your desktop. Additionally, a program group named "2022 AvanTax eForms" will be added to the Start menu, and will contain entries for the eForms 2022 program and its documentation.

2022 eForms
Double click the eForms icon to start the software; the Start Page will be displayed each time that eForms is started. The Start Page provides immediate access to the primary features of eForms and to various sections of the help system.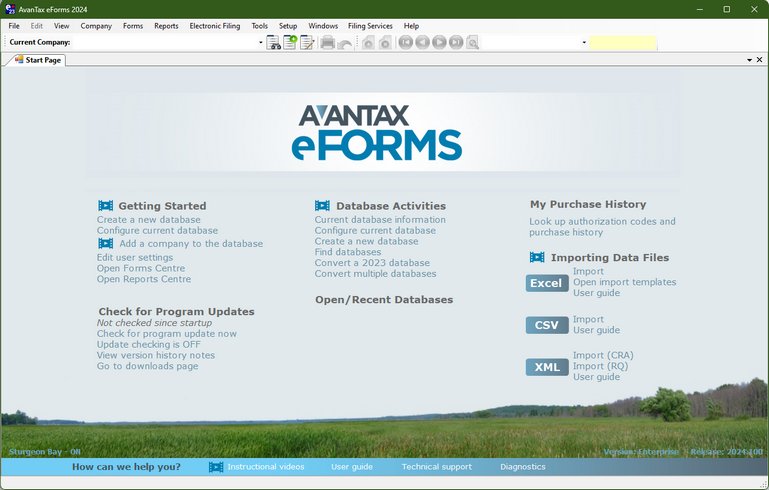 Getting Started
Provides quick access to the major components of eForms to prepare and file returns.
Check for Program Updates
Displays current status of Automatic Update Checking as well as links to check for and download the latest eForms release. Update checking requires that your computer can access the Internet using FTP.
Database Activities
The name and location of the last few database opened is shown here.
Open/Recent Databases
Displays the most recently used databases; the currently open database will appear in bold text.
If you do not have a database currently open, the heading "NO OPEN DATABASE" will be displayed; program functions and menus will be inaccessible until a database is opened.
My Purchase History
Used to look up purchase history and authorization codes for past eForms or T4 TimeSaver versions purchased by your business.
Importing Data Files
Import data into eForms from Excel, CSV or XML source files
How Can We Help You
A selection of help options and resources.