MENU: REPORTS > VALIDATE DATA BEFORE FILING - FEDERAL or QUEBEC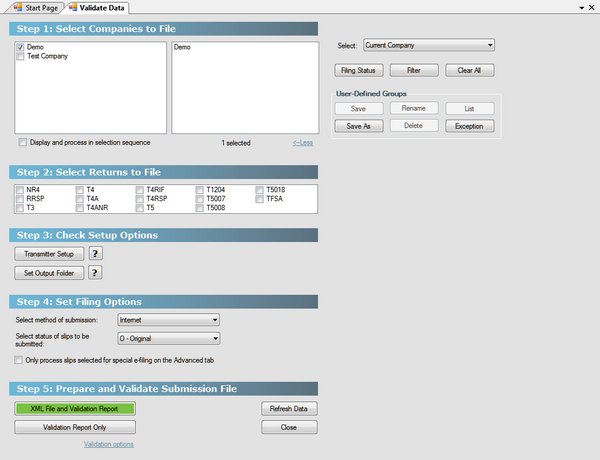 The Validation Report (Federal shown as an example) will be run automatically when you process returns for electronic filing, or it can be run at any time by selecting Validate Data Before Filing from the Reports menu. The validation procedure will identify any missing or invalid data and allow you opportunity to correct the data before transmitting it. Select either the Federal or Quebec validation report as required; the only difference being the forms referenced.
Select the company or companies and the type of return(s) to be validated. Select "Validation report only" to run the validation report on its own, or select a filing method to both validate and create the electronic filing submission at the same time. If the data fails the validation procedure, the filing will be aborted. See Electronic Filing Preparation for further information regarding the settings in this window.
Once you click on Process the Validation Report will be generated. The Critical Errors list shows missing or invalid data that will cause the data submission to be rejected by CRA or RQ. The Warnings list shows data that should be corrected but which will not cause rejection of the submission by CRA or RQ. Either report can be printed by clicking the Print button.