MENU: TOOLS > MERGE COMPANIES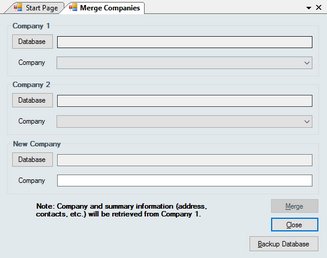 Merge Companies merges two companies into a third company. Each company can be stored in any existing database accessible to eForms; the company containing the merged data must not already exist in the database where it will be stored.
Company 1 / Company 2
Click the Database button to select the database containing the company to be merged, then select the company from the Company drop-down box below.
New Company
Click the Database button to select a database where merged company will be stored and type a name of the company in the Company line. If the merged company already exists in the database the merge will not take place; enter a unique company name or create a new database to store the merged company.
Changes made using this tool cannot be undone unless you use "Backup Database" to create a backup before proceeding.