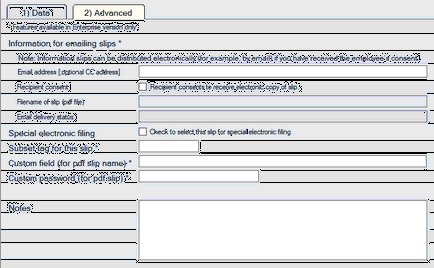 Email address (eForms Enterprise only)
Enter the recipient's email address; a PDF copy of the slip will be sent to this address. The checkbox Recipient consents to receive electronic copy of slip is selected by default for all recipients of all slip types to indicate that the recipient has approved the use of their email address in this way. You are required to obtain the employee's consent before you can distribute slips in electronic format.
Filename of slip (eForms Enterprise only)
The "Filename of slip (PDF file)" field indicates the filename used when the individual recipients PDF file is saved. To change the filename settings, you must use the More option under PDF File Options on the reports screen. Enter the filename you want to give the PDF slip as it will be stored in your system.
Email delivery status (eForms Enterprise only)
The delivery status field indicates whether or not a PDF slip has been emailed to the recipient.
Special electronic filing
Check the box marked "Check to select this slip for special electronic filing" to select the current slip to be included in an electronic submission (XML file) containing only selected slips. This box will be cleared for each slip after the XML file has been created. You must also check the box marked "Only process slips that are selected on the Advanced tab" on the Electronic Filing page for the appropriate slip type.
Subset tag for this slip (eForms Standard & Enterprise only)
The subset tag field is used to distinguish one batch of slips from another for internal purposes, slips can then be printed and filed in these subset batches. For example, you can use the subset tag "May" to distinguish a batch of T5s entered in May from T5s entered in June with the subset tag "June".